Our 65,000 sq. ft. facility is located near Carlisle Pennsylvania at the intersection of I-81 and the Pennsylvania Turnpike. We operate 2 industrial coating lines which are capable of applying specialty coatings (including TGIC powder coating) on parts of almost any size.
All powder coat lines include blast machines which use steel grit to clean parts prior to coating application. We also have a 5-stage pretreatment system which applies chemical cleaning and sealing. All powder coating booths are capable of automatic and manual powder application.
As part of our Quality Control Department we have an in-house lab which conducts adhesion (foil test), cathodic disbondment, impact, and other performance tests.
Wide Range of Rust-Preventive Powder Coatings Available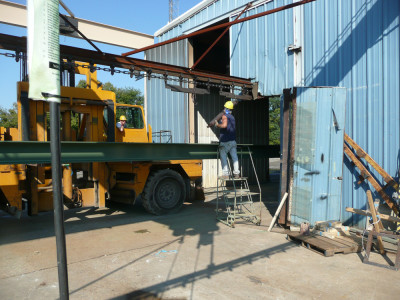 In addition to TGIC powder coating, we can apply the following powder coating types at our facility:
We can easily accommodate parts up to four feet wide, nine feet high and 200 feet long, with a maximum weight of 400 tons. Our facility also includes a rail siding, enabling us to handle rail as well as truck shipments.
High Volume Powder Coating Projects Are Never a Problem
The large size and extraordinary capabilities of our state-of-the-art powder coating facility means that no project is too big for Lane Coatings. In fact, we specialize in turning around high volume powder coating jobs in a short amount of time. Our typical lead time is less than a week, and shorter lead times may also be possible for projects with tight deadlines. Depending on the size of the part, the application of the rust-preventive powder coating takes from a few seconds to about an hour, and the coated parts are ready for immediate shipment. Compared to other powder coating facilities in the area, we easily support the biggest projects.

More Than Three Decades of Powder Coating Experience
Lane Coatings has been operating powder coating facilities as far back as 1979, when we started with a 13,000-square-foot facility for the application of fusion bond epoxy powder coating on rebar. Increased demand for our durable powder coating solutions led to the addition of a second rebar coating line, which was eventually converted to accommodate structural piling products. In 1989, we constructed an additional 35,000-square-foot facility to serve as the home of our custom coating line. Over the years, the experience we've gained has led to our position as a leader in the powder coating industry.
We Can Take On Your Powder Coating Project
Contact Lane Coatings today to learn more about how our fully equipped facility can effectively manage your powder coating project.