Hot-dip galvanization is a commonly used industrial metal finishing process in which fabricated steel or iron is dipped into a vat or kettle of molten zinc in order to form a tightly bonded alloy coating. Hot-dip galvanizing provides excellent protection against the harmful effects of corrosion and abrasion, which can prolong the life of the galvanized material.
Although the process does offer effective and long-lasting surface protection, the Lane Coatings powder coating solution can be a more suitable alternative to hot-dip galvanizing for a number of important reasons.
Aesthetic Advantages of Powder Coating vs. Galvanizing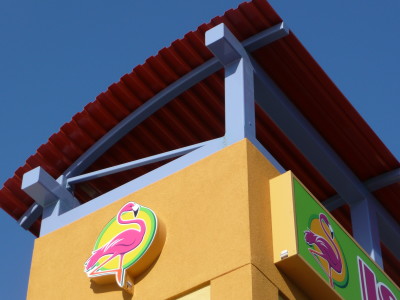 Powder coating can provide surface protection comparable to that of hot-dip galvanizing with the added advantage of being more pleasing to the eye. This is a key benefit when the aesthetic appeal of the finished product is essential for marketing, branding or other purposes. Powder coating gives the customer the flexibility to choose a finish in virtually any color under the sun, and many have the capability to be finished in a wide variety of glosses.
Environmental Powder Coating Advantages
For the ever-growing number of companies committed to "going green," powder coating is a more acceptable environmental alternative to hot-dip galvanizing. The heavy zinc usage that galvanizing requires can be toxic and may lead to health issues in areas surrounding the production facility due to zinc contamination in the drinking water.
On the other hand, the typical powder coating process emits zero chemical solvents and contains no heavy metals. Any powder coating overspray can be recycled, which eliminates waste. There is no wastewater that must be discharged into a public sewer or groundwater supply. In general, no hazardous waste is created as a by-product of the powder coating process.
Powder Coating on Hot-Dip Galvanizing: The Best of Both Worlds
Lane Coatings possesses the capability to powder coat surfaces that have already undergone a hot-dip galvanizing process. Powder coating over galvanizing can extend the durability of the galvanized surface due to the synergistic relationship between the powder coating and zinc.
The powder coating provides an additional barrier of protection for the zinc, resulting in enhanced overall corrosion resistance. Some industrial facilities use powder coating on galvanized surfaces for color coding of piping systems, important for proper identification and safety. Lane Coatings can handle almost any type of project requiring powder coating over galvanizing, regardless of size or scope.