Solar carports are a great way to maximize the value of open parking areas. By harnessing the natural power of the sun, solar carports can serve as an additional source of electricity and can also be used to recharge electric vehicles. But like any structure that is continuously exposed to the atmosphere, solar carports can suffer damage from the harmful effects of corrosion over time. Lane Coatings offers solar carport structure coating solutions that provide superior protection and can extend the structure's lifespan.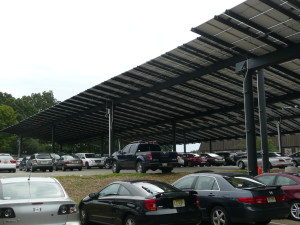 The Most Effective Solar Carport Structure Corrosion Prevention Option
Carport finished with powder zinc-rich epoxy primer and TGIC super durable polyester top coat.
When it comes to long-lasting solar racking corrosion prevention, powder coating is more effective than liquid paint. The carport and recharge station powder coating process makes use of finely ground, electrostatically charged particles and heat to form a powerful physical and chemical bond on the racking surface. Powder coating is often less expensive than systems that require several coats of paint. It is also an eco-friendly alternative to liquid paint and hot dip galvanizing, as it emits zero solvents that can produce potentially harmful chemicals.
Why Choose Lane for Solar Racking Structure Coating?
Lane Coatings has been providing effective and durable industrial powder coating solutions for more than 30 years. Powder coating is the sole focus of our business, and we take great pride in our ability to complete projects on time and on budget. Our 65,000-square-foot facility, located in Carlisle, PA, houses two coating lines that can handle coating tasks of all types and sizes. Our solar carport and solar charging stations coating process will ensure your structure will continue to serve as a valuable and reliable renewable energy source for years to come.
Learn More About the Benefits of Solar Carport Structure Coating
To learn more about how solar racking structure coating from Lane Coatings can limit the harmful effects of corrosion, contact us today.