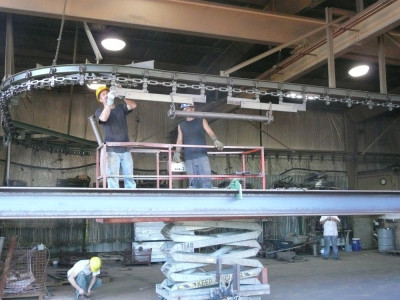 Lane's mission is to provide high quality industrial powder coat finishes for larger products that require a higher level of functional protection than provided by traditional coatings.
We achieve this goal through commitment to quality assurance, technology, and customer satisfaction. We apply stringent quality control measures to ensure the finished product meets our high standards — as well as those of our customers. We incorporate the latest technological innovations into our powder coating finishing process to achieve even higher levels of quality and reduce lead times. We're an employee-owned company where every employee is committed to meeting the needs of each customer, regardless of size.
Benefits of Our Powder Coating Services
The powder coating service from Lane Coatings can benefit your operation in many ways. Powder coating is a durable metal finishing solution that provides superior protection against corrosion. Our powder coatings are available in a wide range of colors to add a strong visual impact to your project if desired. Powder coating is also a more environmentally friendly alternative to liquid paints. The powder coating process can be completed quickly, and often at a lower cost than liquid painting.
Years of Experience Behind Every Project
There aren't many powder coating companies with the know-how that Lane Coatings offers. We've acquired our expertise over more than three decades of powder coating experience. We've grown from a 13,000-square-foot operation for performing fusion bond epoxy coating on rebar to our current 65,000-square-foot facility in Carlisle, PA. While rebar is still our most popular powder coating service, we now offer numerous powder coating types for applications including guide rails, light poles, fences, sheet pilings, solar carports and more.
Custom Powder Coating Solutions
Unlike powder coating companies that take a "one size fits all" approach, Lane Coatings is dedicated to providing a customized coating solution specifically designed for each customer. Regardless of the size or type of your project, we can get the job done quickly — and affordably.
Contact Lane Coatings Today
Contact us to learn more about what our powder coating services can do for your company. Put more than 30 years of powder coating experience to work for you!